People Behind Related: Rajni Chettiar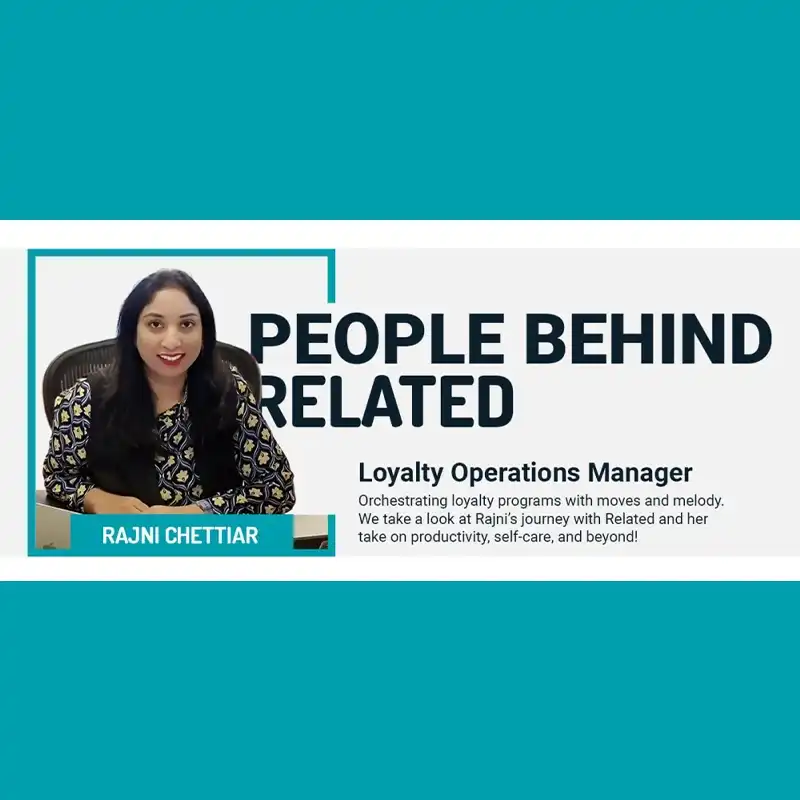 Category:
Customer Loyalty,
Employee Spotlight
If you've ever wondered what it takes to manage a loyalty program, you're in for a treat. Rajni Chettiar, our Loyalty Operations Manager, is here to share insights on her role and some personal tidbits you might not expect. From prioritizing tasks to incorporating "me" time into her day, Rajni provides valuable tips for productivity and self-care. So, grab a cup of coffee and get ready to learn more about the person behind the job.
What is one thing that you wish people knew about your job?
As a Loyalty Operations Manager, my job involves managing, evaluating, investigating, reporting, and optimizing the performance of the loyalty program. This means being in charge of all the day-to-day tasks that contribute to the success and growth of the program as a whole. I wish people knew the level of detail and complexity involved in managing a loyalty program and the amount of work that goes on behind the scenes to make it successful.
What is your favorite productivity hack?
First, prioritize my day-to-day tasks for proper focus, and second, assign a time duration to finish each and every task.

What's one thing people don't know about you that they would be surprised to find out?
People may be surprised to find out that I can dance and play the ukulele. These are hobbies that I enjoy outside of work and help me to de-stress and unwind.
In terms of successes, which accomplishments are you most proud of?
I am incredibly proud of how quickly I was able to learn and become proficient in managing the full operations and handling complaints related to loyalty rewards. With less than a year and a half of experience under my belt, I feel confident in my abilities and am excited to continue growing and contributing to the company's success.
How would your friends describe you?
According to one of my close friends, I am confident, determined, positive, and understanding when it comes to listening to others' concerns. I have a lot of patience, I am caring, loving, and down to earth. I am always there for my friends in tough times, and they know that I will be there for them in a split second.
How do you incorporate "me" time into your day?
I prioritize taking at least one hour every morning for myself, during which I love to do yoga, meditate, and go to the gym. This helps me start the day feeling refreshed, energized, and ready to tackle any challenges that come my way.
Describe the company culture in three words.
The company culture is friendly and supportive, challenging and rewarding, and most importantly, emphasizes teamwork with brilliant mentors.
What destination would you hope to visit one day?
I have always dreamed of visiting Paris, France. I have been fascinated by its rich history, beautiful architecture, art and culture, and its reputation as the City of Love. The Eiffel Tower, the Louvre Museum, the Notre-Dame Cathedral, and the Seine River are just a few of the iconic landmarks and attractions that I would love to see in person. I am also looking forward to trying authentic French cuisine and experiencing the city's charming cafes and street-side bistros. Although I haven't had the opportunity to travel to Paris yet, I hope to make it a reality someday and create unforgettable memories.
AI or human customer support?
While AI is the future and can play a huge role in improving online customer experience, retention, and brand image, I still prefer human customer support. There is no replacement for the real human experience, empathy, understanding of genuine concerns, and helping customers to resolve issues effectively.
In conclusion, Rajni Chettiar's insights on loyalty program management, productivity, self-care, and company culture shed light on the multifaceted role of a Loyalty Operations Manager. Her experience at Related, a company that values teamwork, challenge, and reward, has enabled her to excel in her position and grow as a professional. If you're interested in learning more about Related and our commitment to providing innovative solutions for our clients, don't hesitate to contact us.
Thank you for reading, and remember to prioritize your productivity, self-care, and seek out opportunities for growth in your career.